So, if I want to get anything accomplished, I need to have a plan. What follows is my attempt to start such a plan for making myself a vintage wardrobe that I can wear daily.
Step 1.
What does a basic wardrobe consist of?
The Essentials:
Pencil skirt in a neutral colour.
Full skirt - for maximum versatility choose either a solid colour or a monochromatic plaid/check.
Print cotton shirtwaist dress.
Background dress
Bombshell dress or Day-to-night dress (rayon crepe is a good day-to-night fabric). A dressier cocktail or evening frock can follow later.
Demure blouse or two - silk, rayon or cotton. Choosing one with a bit of interest - e.g. a novelty print, or embroidery, or lace trim - will make sure that every outfit has a bit of flair.
Fitted sweater in any colour of the rainbow.
One or two fitted wool cardigans.
One or two pairs of shoes that will go with everything (black, navy or brown are best) and comfortable to wear all day.
Flouncy petticoat.
Puff sleeve or 3/4 sleeve T-shirts ? Demure blouses.
- I do have two cute puff sleeve work shirts for when I'm on the job. I have to wear company logo shirts so it's important I have work shirts and non work shirts if I want to wear a vintage inspired look all the time.
I do have 2 vintage shirts, one light yellow button back and one reproduction polka dot.
But having both yellow based shirts mean they don't exactly match everything (why glamourous housewife wanted black bottoms in the suggested list).
Button back blouse
horrible picture I know, but my favorit shirt, see close up for detail
So I'm thinking I need some tops that actually go with the bottoms I have. So slight need there.
White vintage blouse. Definitely in need of one of those. I will also need a white work blouse as well (shirt orders should be coming up before too long).
I have a red work sweater that isn't vintage, but will work for now. That is if I have anything to wear with red.
(no pictures, sorry. But you know what cardigans look like. I have cream, light blue, grey, and light colors. No reds, leapard, etc.)
I will stick with the black dress for now because I do already own a nice vintage black dress, though it looks much better on that dress form then it does on me. The cut it really odd and makes me look like I have a baby pooch, even when I am looking pretty good. Perhaps it will look great once I lose a little weight.
I also have a pink bombshell/cocktail dress and a wool bombshell dress.
No shirt waist dress.
Pencil skirt, now that I have covered. I have a rust colored, a grey (a little too small at the moment but lovely), a brown, and a black one (the black one isn't vintage and is more of a pinup look).
Not mine, but you get the idea. Mine is vintage and I love the lining.
This is more rust colored than salmon as it look in pic. This one is actually mine :)
Close up of my brown pencil skirt pocket detail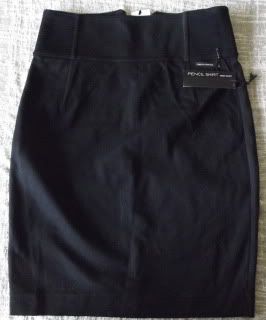 Again not mine, but you get the idea. It is high waisted and goes to my knees (really tight though)
Full skirt. I have a creamy vintage a line skirt that I'll stick in that category. I also have the summery circle skirt I made when I first started this blog.

Not, mine and not actually very close but it is the right color and shape. Mine is plain except for two front pockets that have lace on the tops of them (so cute) I really need to take a picture of it.
Wide legged sailor pants and black wide legged pants. Im not sure why glamourous housewife has both on here. I don't have any but I think one pair will do.
Black Capri pants. I already have a pair of Capri jeans that are cute, not vintage, but they could play the part until I get something better.
not mine, but gives an idea
A fitted waist jacket. I don't have anything of that sort yet.
Flats... I'm not big on flats. I have active wear shoes (for hiking or exercising) and heels, I don't really have an in-between style. I will consider it though and be on the look out since I'm not going to be able to make shoes :)
Retro heels. I bought an awesome pair while in Florida for a business trip, but after wearing them all day my feet were horribly blistered. So I have decided they are too small. I have a habit of buying cute shoes via eBay or wherever that are "my size" to realize that no they are not. I have quite the collection building of shoes that don't fit.
I do have several cute pairs of peep toe sandals for summer, not retro but cure and in several colors (black check, blue check, and yellow check- the yellow ones can be seen in the circle skirt picture). And a pair of basic black vintage heels for all the rest of the time (you can see in the pink cocktail dress picture). I also have a pair of brown vintage dress boots (not 40s and 50s vintage, but still workable) No pictures though.
Black leather purse, yea that's not on the top of my list. I have a super cute vintage blue and red wicker vintage purse that goes with almost everything. When that doesn't go, I have a black vintage dress purse and a vintage gold compact purse (wristlet). Again no pictures.
A petticoat, I think I have one around here somewhere from my wedding, might have to dig it up.
Step 3.
What is left that is needed then?
So from this list what did I determine I need...
At least one non-yellow based vintage shirt (that will go well with rust, grey, cream, and brown or as many of those as possible)
One vintage white blouse, one work white blouse.
Another vintage sweater for me to knit.
Wide leg trousers
A shirt waist dress
Capris
Flats (if I find a cute pair)
Step 3. What patterns/ fabric do I need to buy?
Cardigans won't need anything more than buttons for the refashion.
That is it for their lists. But here is what I think I need to add to my wardrobe.
So, I have had lots of questions for you ladies. I highlighted them to make them eaiser to find for you and so I wouldn't be reiterating myself again.
I think that would be a good start. I have a list of other things is like to make (even some that stash bust), but I need to focus on these things first of I want a wearable wardrobe.